August 28th, 2009 by
peter siddle
in
The Ashes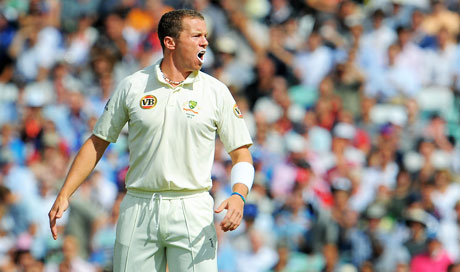 I'm in Paris at the moment as the coaching staff have given me time off between the Test matches and the one-dayers next week. I'm not in the squad for the two Twenty20 matches, so I've come over here with my girlfriend to relax. We've had a couple of days in Disneyland and a few days in Paris before it's back to London.
What happened at The Oval was very disappointing for Australian cricket – the consistency with bat and ball from Headingley was sadly lacking. The wicket performed differently to how we anticipated and changed dramatically on the first day and that has hurt us in the end. People say we should have picked a spinner but if the wicket hadn't broken up so much on that first day things could have been totally different.
Everyone was down afterwards but we just didn't perform well enough through the series and particularly in that match. We know where we went wrong and we have to move forward and look to the one-dayers.
Being such a young group with a lot of blokes playing in their first Ashes, it was tough to take in – it left us empty inside. I've had time to have a think it and it has sunk in that the Ashes is over and we've lost. It is unbelievably disappointing to go through such a long tough series and end up losing like that. As for the older guys, Ricky doesn't know if he'll be coming back – he'll be 38 or 39 the next one over here. He's lost twice now and I'm guessing that will be very tough for him to handle and take in.
England deserved their win. As Ricky said, they won crucial stages of the vital Tests. You look at the stats and we provided most of the top faces but they performed well when it mattered. We went and had a drink with them in their rooms after the game, just to chew over the series and congratulate them on their win. I had a drink and a talk to Freddie and Steve Harmison about cricket and other stuff. It's always good to talk to guys like that – they've both taken a few Test wickets and were giving me some pointers. They told me to keep doing what I was doing, not to imitate other people and that each of them had had their success doing consistently what they did best.
Freddie was pretty happy to be kicking back for that final beer with his team-mates and celebrating an Ashes win to end his Test career. His run-out of Ricky was exceptional, and a key part of the game. Victory may have been unlikely for us at that stage but that partnership was starting to blossom and it was a big moment for England.
Stuart Broad has done well over the last few Tests, with a 6-for and a 5-for and made runs as well. He seems to be getting the feel of what you need to succeed in Test matches – being a Test allrounder is tough but he is starting to cope with the load better. England are off to South Africa this winter and if they want to emulate our success then the biggest thing I could advise is that the bowlers focus on consistency. That was the biggest thing for us – and what we lacked this summer. The pitches are hard and bouncy, it was fun bowling over there and Dale Steyn liked to drop a few short, so if he's seen any of the footage from over here then Graeme Swann and a few of the boys could get a bit of grief this winter!
I never quite reached the consistency and the pace that I had in Australia and South Africa over the winter so that was a little disappointing but I finished with 20 wickets after a dodgy start and was pleased with how I progressed. There is always room for improvement but it was a huge series and it was great to get a feel for playing in games of this size. I will remember the feeling of our win at Headingley for a long time, and my first five-wicket Ashes haul in that game. By the end of the series I was opening the bowling, and that suits my style as I like to get into the game early.
There are also lots of positives for Australia to take from the series. There was a lot of talk that Ben Hilfenhaus might not play coming into that first Test but he got the nod and was our leading bowler by far. Marcus North's improvement has been huge, and the way he goes about his business in the middle-order is mightily impressive. Phil Hughes had a disappointing tour but it will make him stronger. If you look at a lot of the great Australian players, like Langer and Hayden, they all got dropped early in their careers and came back to be some of the best players our country has seen. He'll be back, and he was looking a stronger person by the end of the series.
I've never played a five Test series before either, and the biggest difference is how much it takes out of you, having to get up game after game, day after day, when you've bowled your 20 overs the day before having to go and do it again. That is what makes it so exciting, and so fulfilling, because now I've come through five Tests and all the tour games as well, which is pleasing and a good sign for the future.
My body is feeling great now, but it will be a relief to go back into the one-dayers now – 10 overs is always easier than 20 or 30! There will be a change of thinking now as well, how to bowl in different circumstances and executing different plans. We have a few players like Brett Lee who are itching to play and a few young blokes as well. We'll be going hard but one-day cricket is a little more relaxed so it will be good to get away from Test cricket and hopefully we can get the series win.
Peter Siddle is blogging for thewisdencricketer.com throughout the Ashes summer
Posted in The Ashes | 2 Comments »